LiqCN-VMB Dropper Bottle Filling Machine
Filling and capping nasal spray pump bottle, mini spray perfume bottle, ribbed/smooth skirt fine mist fingertip sprayer bottle with clear overcap and dip tube and ribbed skirt Rotating spray pump.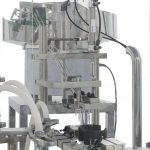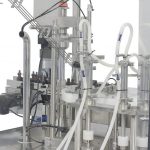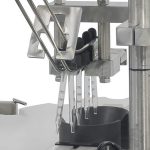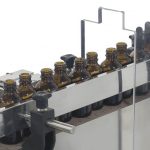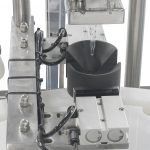 LiqCN-VMB Dropper Bottle Filling Machine
The LiqCN-VMB automatic dropper bottle filling capping machine is designed for small plastic or glass dropper bottles and suitable for filling liquid like e-liquid, eye drops, electronic cigarette, nail polish, eye shadow, essential oil and so on. The dropper bottle filling machine adopts the peristaltic pump or piston pump metering with the filling range 10-120ml, high precision. PLC controller and color touch screen are applied and made it possible for programmable control of the machine. It can finish unscrambling bottle, filling, glass dropper load, screwing the cap, labeling(optional) automatically.
304 Sanitary Stainless Steel frame configured to project specifications
Tooling for one bottle and cap
316L Stainless Steel Head Filling with 2/4/8 nozzle ports
Straight through, side mount filling nozzle
Vibratory sorter bowl for transition of caps and tip/spray pump for placement on bottles
PLC Touch screen with HMI interface for easy setup and monitoring
Motorizing system for the movements of various groups
24 positions star-wheel with intermittent movement. The Alternative movement of the star is made by an intermittent mechanical transmission. Bottle presence control in the star. If the presence of the bottle is not noticed the machine stops automatically
Presence control of tip/spray pump on the vial. If the control has a negative outcome, the machine stops. Alternatively the machine can reject the defective object
All non-metal material will be designed for compatibility with customer's disinfectants
Hopper or bowl mounting with ergonomic design for single person operation
FAT service included
Optional pFMEA, SAT and IOQ available
| | |
| --- | --- |
| Model: | LiqCN-VMB |
| Length: | 100" |
| Width: | 45" |
| Height: | 70" |
| Weight: | 2,200 lb. |
| Filling Nozzles: | 8 |
| Stopper Placer: | 2 |
| Closing Head: | 2 |
| Cap unscrambler and infeed conveyor: | 1 |
| Stopper unscrambler and infeed conveyor: | 1 |
| Accuracy: | ± 2% |
| Reject Rate: | Less than 0.1% |
| Electrical Requirements: | 220V/50Hz (opt. 380V) |
| Air Requirements: | 110 psi. |
| Range: | 0-100mL |
| Output: | up to 5,000 CPM |
| Finish: | Stainless steel and plastics |
HUADA

Pharma

Offers

Backed by our 25 years of experience in pharmaceutical engineering solutions, we design, manufacture and supply high quality pharmaceutical process and packaging equipment to the industry worldwide.
Contact
HUADA

Pharma

Get in touch with us today to discuss your project and how we can help you fully realize its potential.