BliCN-260 Automatic Blister Packer
This product is specially designed for hospital pharmacies, laboratories, health care products and small and medium-sized pharmaceutical factories. It has the characteristics of compact body, convenient operation, multi-functionality, adjustable stroke and durability. It is suitable for packing aluminum products, medicines, food and electrical components, etc. into PVC packaging.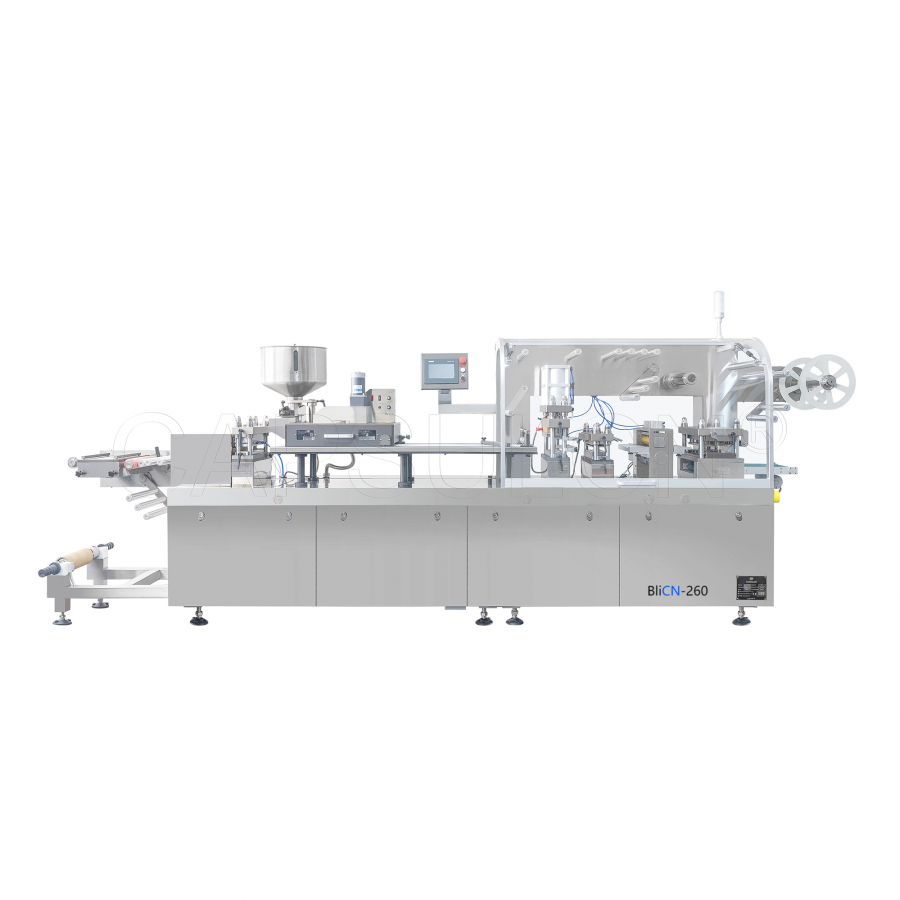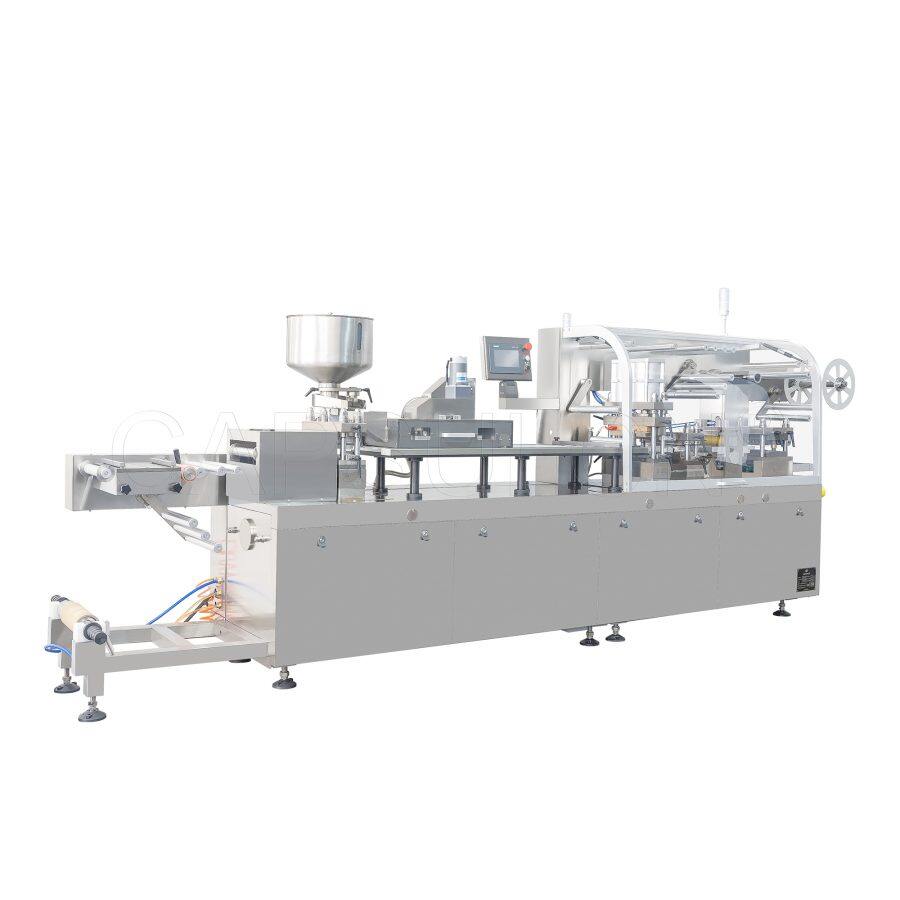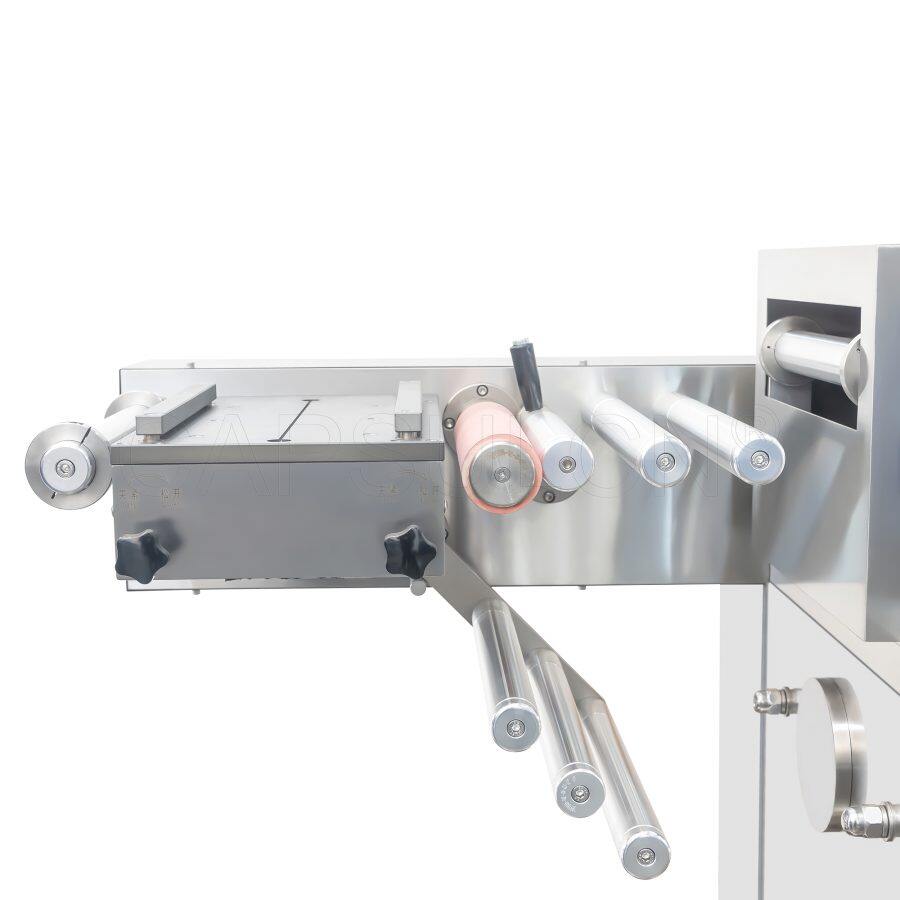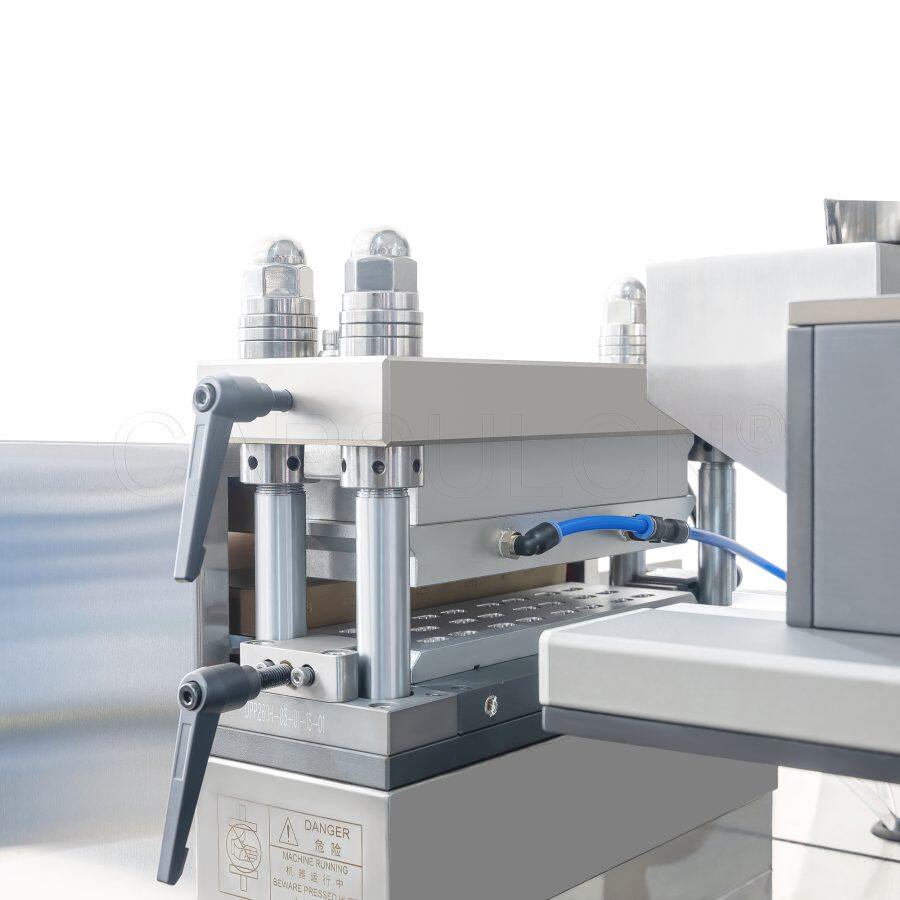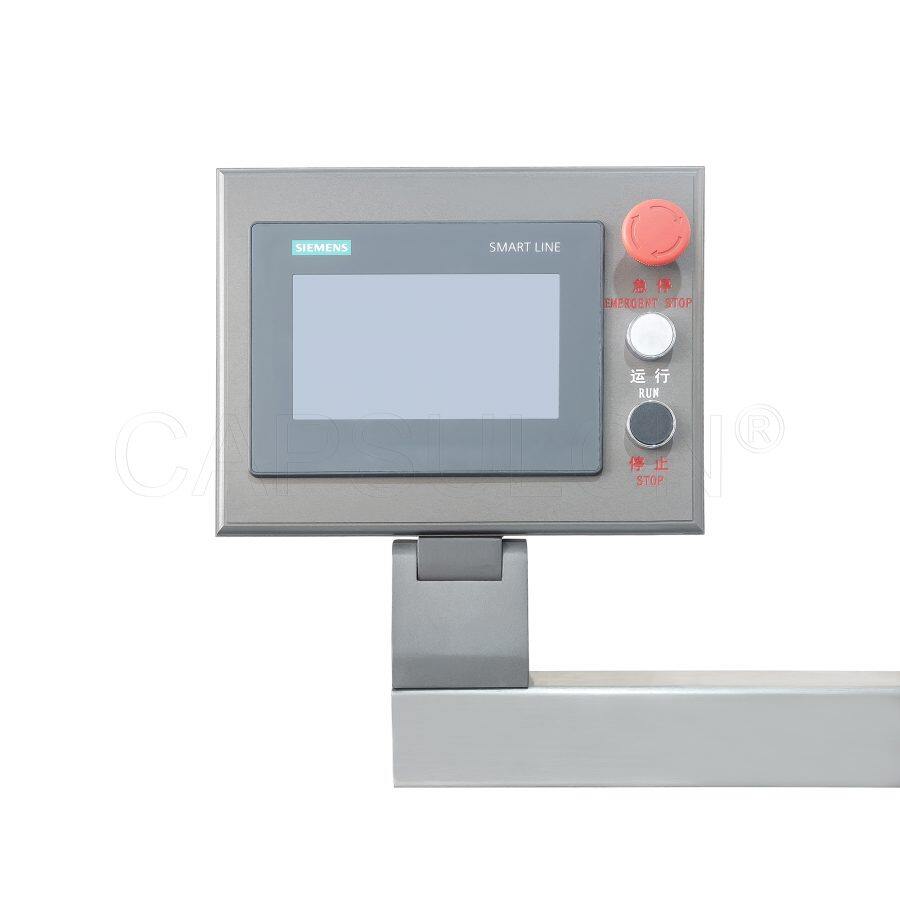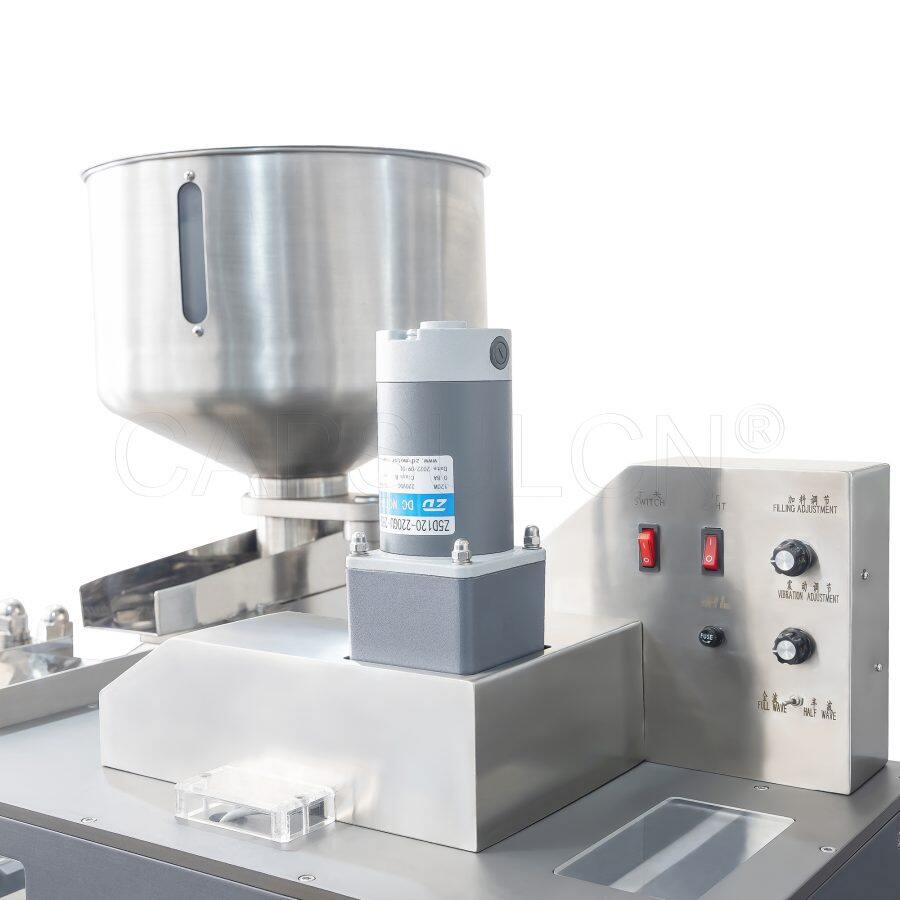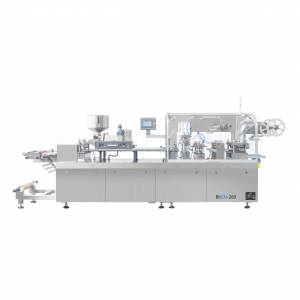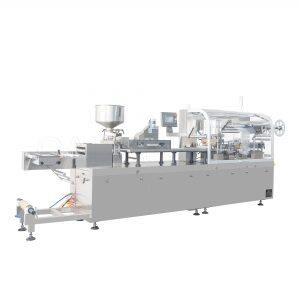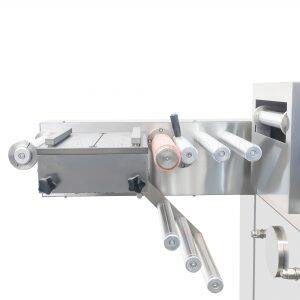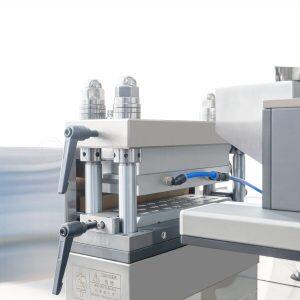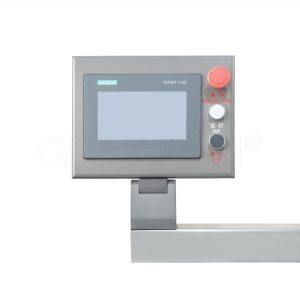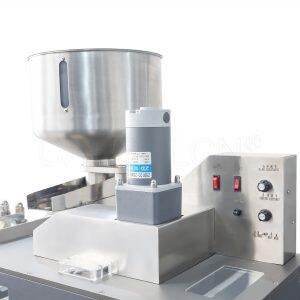 Automatic Blister Packer BliCN-260
PVC blister forming, automatic material filling, PTP aluminum foil flat pressing and heat sealing, graphic alignment, batch number imprinting, tearing line pressing, medicine plate punching, and waste recovery. This machine is suitable for aluminum-plastic (aluminum-aluminum) blister packaging of solid products in the pharmaceutical, chemical, light industry, and food industries such as tablets and capsules.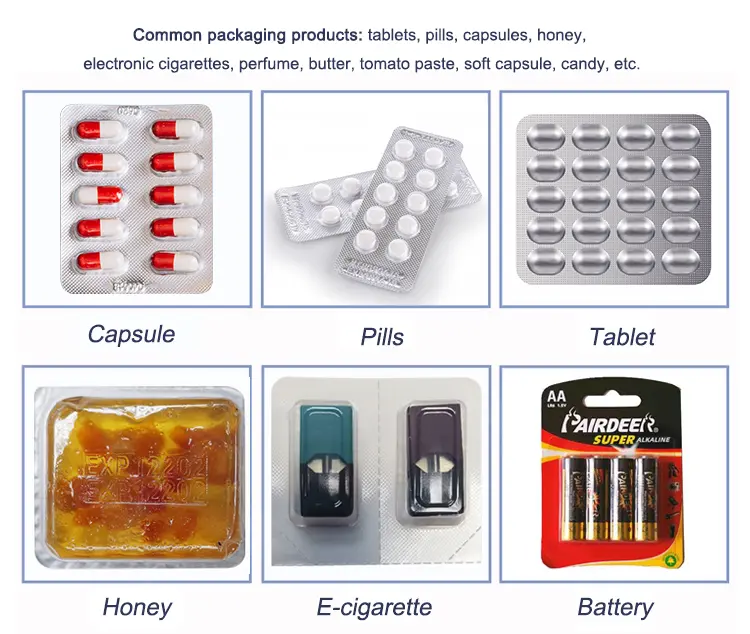 Introduce:
The DPP260H automatic blister packaging machine for aluminum-plastic (aluminum-aluminum) is a recently improved equipment launched by our company. It adopts variable frequency speed regulation and integrates mechanical, electrical, optical, and pneumatic control technology. It is innovatively designed in strict accordance with the requirements of the pharmaceutical industry's (GMP) standards, and it is at the leading level in China. This machine has advanced functions, simple operation, and high production efficiency, making it the ideal packaging equipment for large and medium-sized pharmaceutical companies, health care products, and the food industry.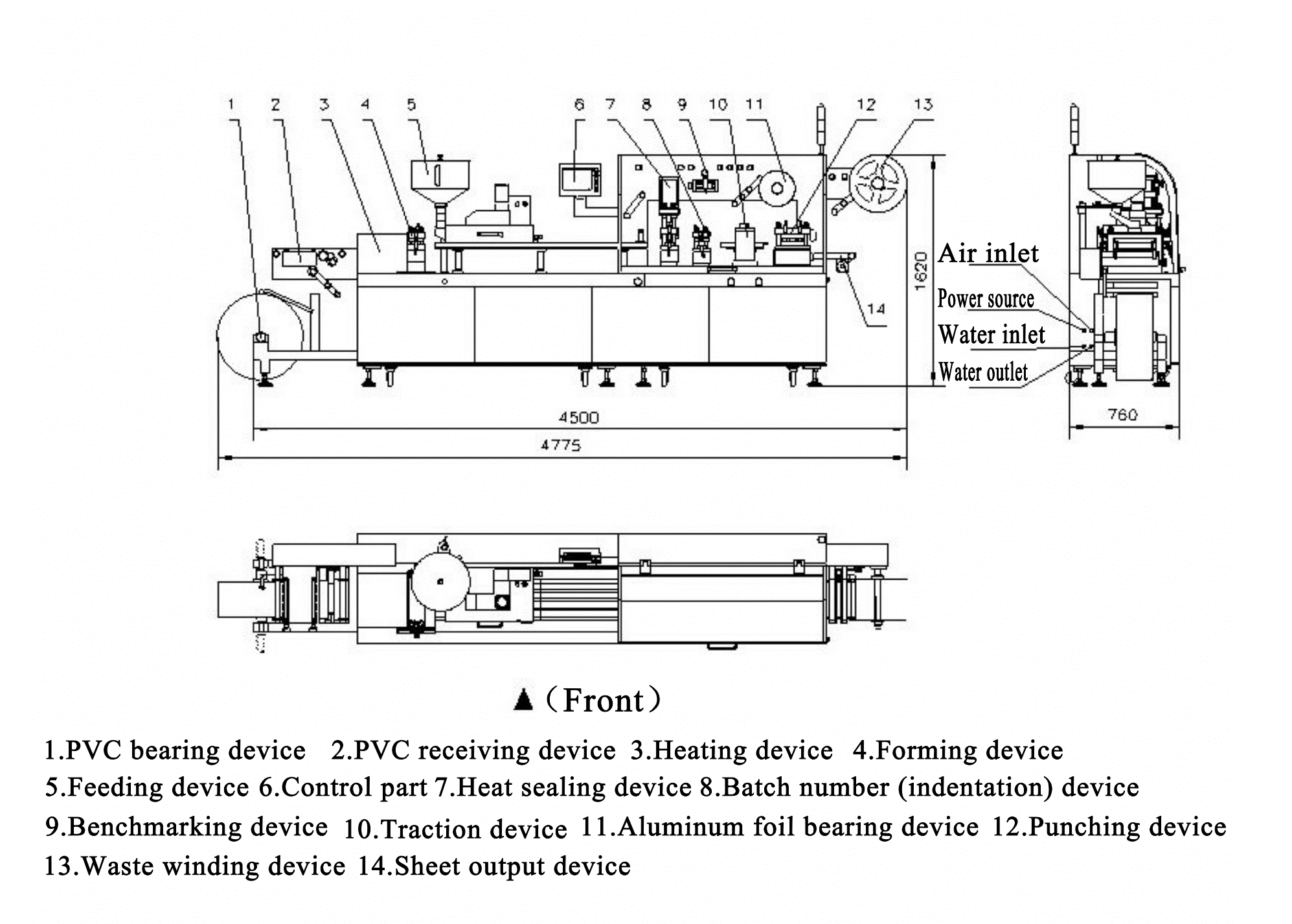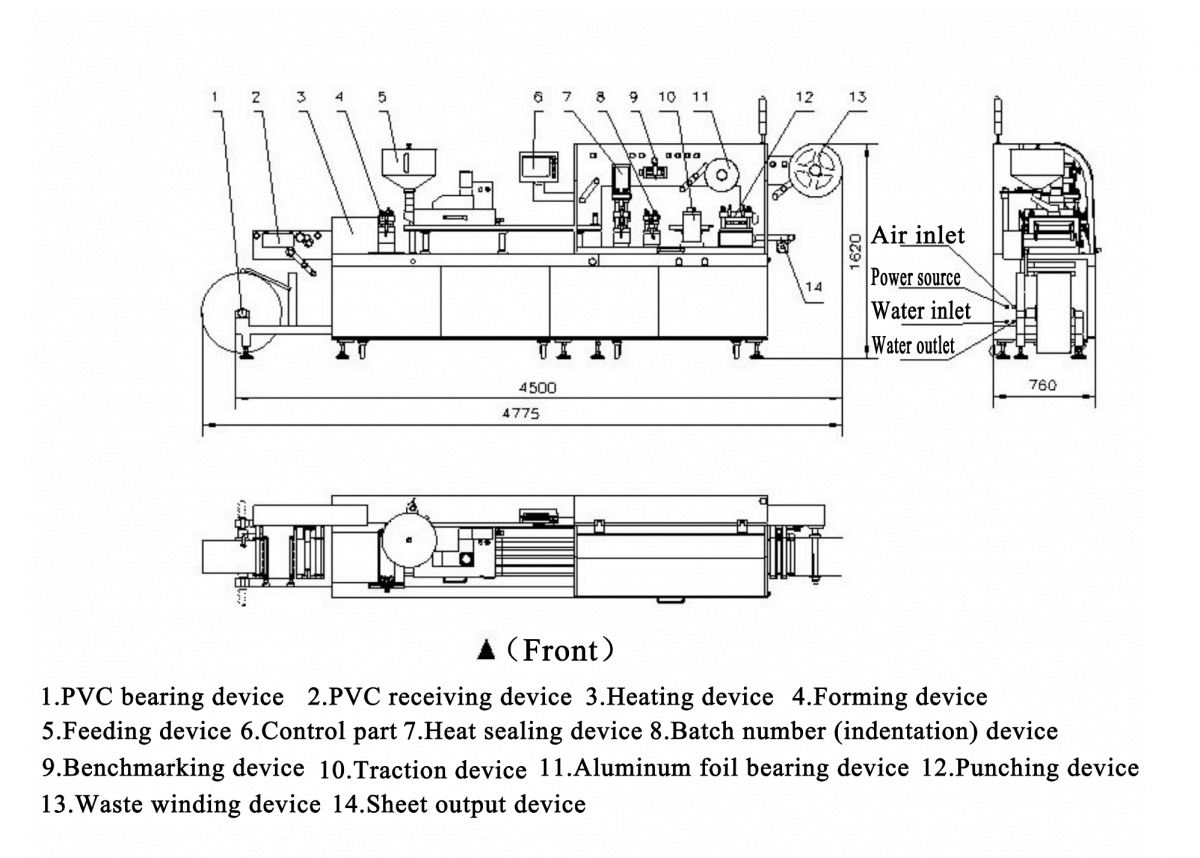 Main features:
The overall open layout structure, modular design workstations with good visibility, and convenient maintenance and adjustment. Novel and safe appearance protection design for safe operation.
It has heating plate temperature control detection, main motor overload protection, PVC and PTP packaging material position detection, and feeding warehouse material position detection and control, automatic fault protection and shutdown.
The forming heating mechanism uses contact-type graphic alignment heating. After the heating plate is lowered, it can be delayed to start up to limit material waste within one plate travel. It also reduces heating power and temperature, saves energy, and enhances the stability of the plastic plate, making it not easy to deform.
Enlarged PVC quick replacement bearing platform, quick material receiving platform, and overall guide rail, increasing the overall practicality of the equipment.
The mold is trapezoidal positioned, the rectangular design is positive pressure formed, and the micro-edge is punched and cut, making replacement more convenient and quick. All parts in contact with drugs are carefully made of high-quality stainless steel and high-quality aluminum alloy non-toxic materials, with high-grade surface treatment process and texture.
Air cushion sealing: When the machine is stopped, the cylinder automatically raises the mesh This eliminates the phenomenon of blister deformation caused by heat radiation during stoppage, facilitates the cleaning of the mesh plate, and at the same time plays a buffering role against overpressure, which is beneficial to prolong the service life of the machine.
Male and female mesh plates are sealed by heat sealing: Both sides are point-like mesh patterns (can also be sealed with line-like patterns). Due to equal stress, the plates are flatter and the sealing performance is improved.
An independent batch number printing station is added, abandoning the drawbacks of the previous model of scalding the mold when changing the hot sealing mold, and designing a batch number heating mechanism to ensure the clarity of the batch number.
Equipped with photoelectric compensation mechanism for graphic alignment of pre-printed aluminum foil.
Frame-type filling and feeding, high efficiency and reliability. It can adapt to various layout methods and filling of irregular shapes. (And can design a matching special feeder according to the packaging item)
It adopts high-end PLC control, touch screen operation, Chinese and English digital display, variable frequency speed regulation, servo traction, and traction length can be adjusted arbitrarily on the touch screen within the traction size range.
The finished products are outputted in order, and defective products are easily collected. Equipped with waste collection device for easy collection of waste materials.
The whole machine adopts split and connected design for easy access to elevators and workshops.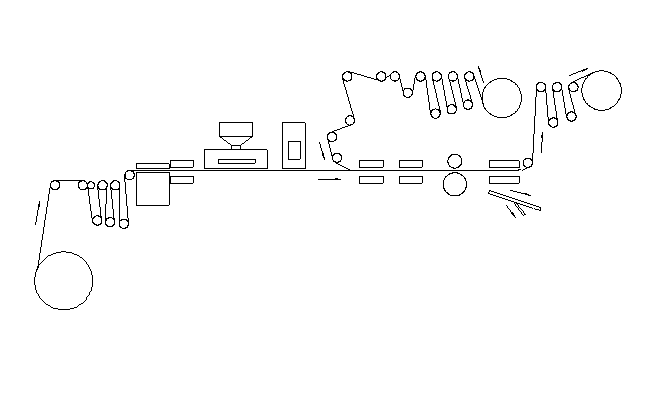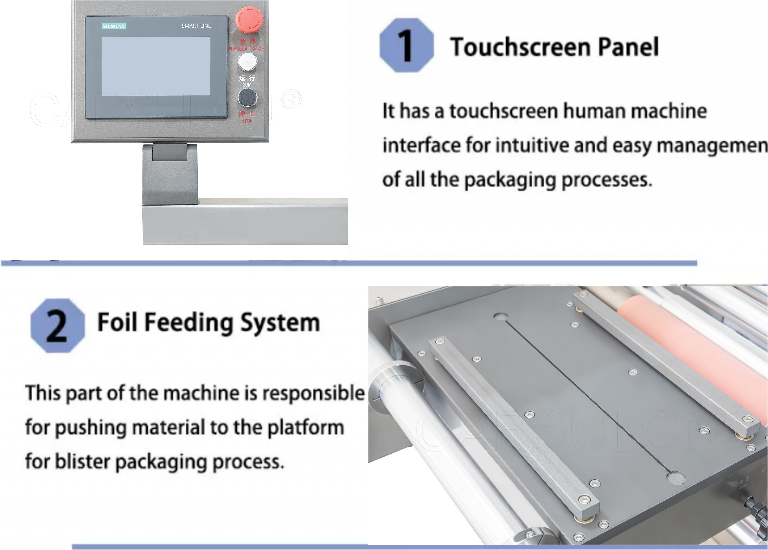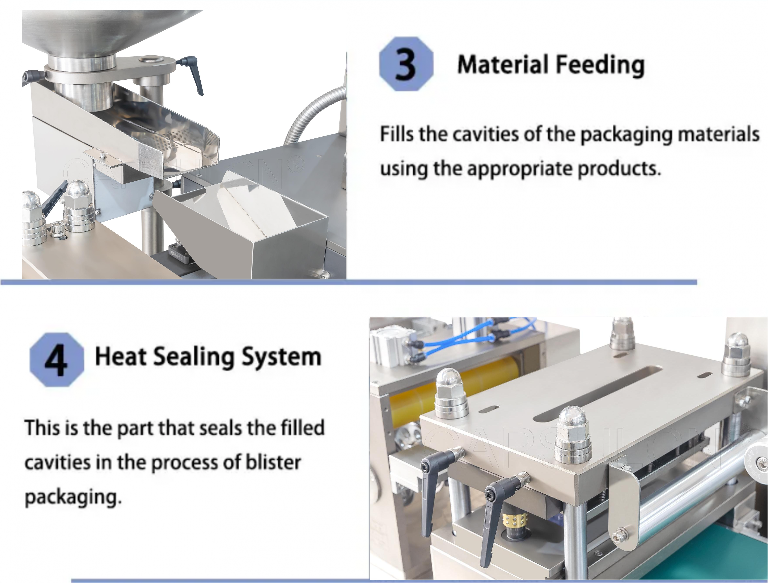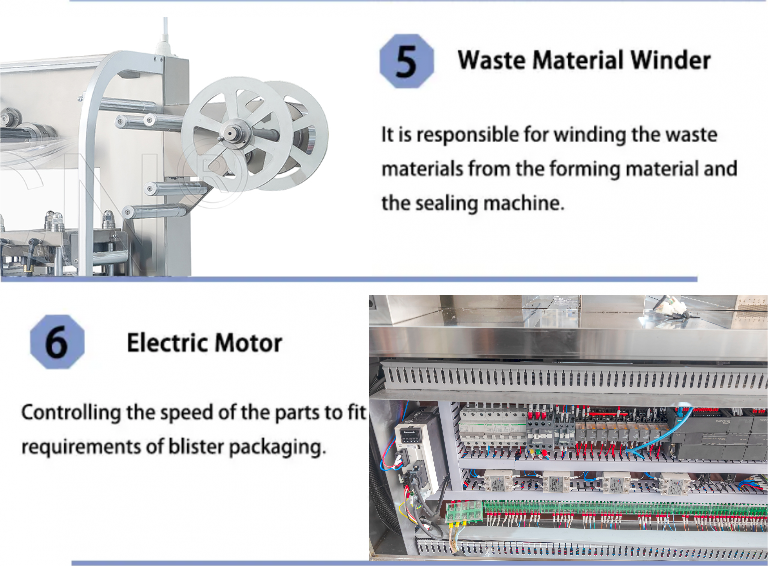 l
(Don't Worry! We have several Models. We can recommend you according to your requirement. Just Tell Us: Capacity, packing machine and Capsule Size.)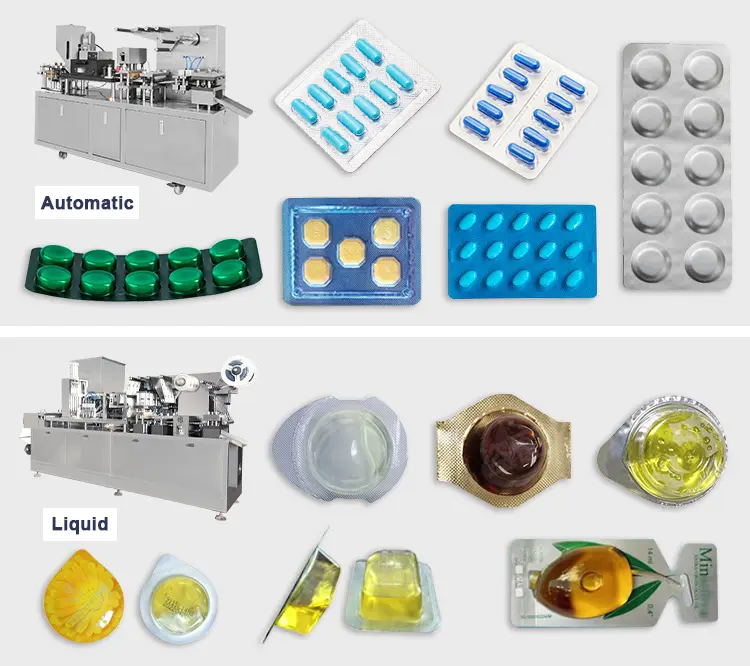 Remarks
Regularly check whether the distribution lead-out lines (already tightened) are loose. If they are too loose and sagging, they should be re-tightened to make them firm, so as to avoid friction with the machinery, damage the insulation layer, and cause electric leakage.
Lubrication must be done on time according to the lubrication diagram.
It is recommended to use a 0.5m³ × 1.0Mpa oil-free air compressor for this machine (a common air compressor with the same power can be used as a substitute).
The pressure of the device regulating valve should not be higher than 0.8Mpa, and the oil cup of the oil mist regulator should be filled with oil (20# mechanical oil). To prevent moisture in the air, the water in the oil-water separator cup and the compressor should be drained regularly.
The pressure on the forming, sealing, batch number (indentation) and other parts should not be too high, otherwise it will affect the use.
Check the vulnerable parts such as the silicone ring for aluminum-plastic (aluminum-aluminum) forming, the passive traction roller, the steel type, the roller, and the steel ball sleeve regularly, and replace them in time if they are found to be damaged.
Keep the equipment clean and tidy. Regularly use a soft cloth slightly dipped in soapy water to wipe off the surface grease and dust, and then dry it with a dry soft cloth.
Item
Technical indicator
Punching frequency (standard version)
20-60 times/min (aluminum-plastic)

15-30 times/min (aluminum-aluminum)

Maximum forming area and depth
250×110×22 (aluminum-plastic)

250×110×18 (aluminum-aluminum)

Travel range
30-120 (30-140mm can be customized)
Sheet specifications
Standard
57×80mm
Reference specification
88×57  95×65  100×43mm (can be designed according to user requirements)
Number of medicines per sheet
Design according to user requirements
Packaging material (rolls are Φ75)
Non-toxic PVC hard sheet
(0.15-0.4)×260×(Φ600)mm
Heat seal aluminum foil
(0.02-0.15)×260×(Φ300)mm
Forming aluminum foil
(0.16-0.2)×260×(Φ600)mm
Heat-sealed dialysis paper
(50-100)g/m2×260×(Φ300)mm
Heating power
Upper heating plate
2kW
Lower heating plate
2kW
 Heat seal heating
2kW
 Batch heating
0.175kW×3
Main motor power
3kW
Power supply, main power
380V  50Hz  10kW
Air pump capacity
≥0.25m³/min (self-provided)

Pressure: 0.6-0.8MPa

Mold cooling
Tap water or circulating water

Consumption: 60-100L/h

Dimensions (L×W×H)
4775×760×1620 (middle split, including foot height)
Weight
About 2088kg
Aluminum-plastic Blister Packaging Machine BliCN-260
HUADA

Pharma

Offers

Backed by our 25 years of experience in pharmaceutical engineering solutions, we design, manufacture and supply high quality pharmaceutical process and packaging equipment to the industry worldwide.
Contact
HUADA

Pharma

Get in touch with us today to discuss your project and how we can help you fully realize its potential.