BliCN-250 Automatic Blister Packer
The product is specially designed for hospital dosage room, laboratory institute, health care product, middle-small pharmacy factory, and featured by compact machine body, easy operation, multi-function, stroke adjustable, long durability etc, it is suitable for the Alu-PVC package of medicine, food, electric parts etc. Aided forming Pre‐cutting Inspection and rejecting control systems. Print mark registration Automatic feeder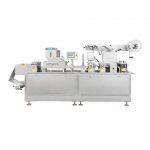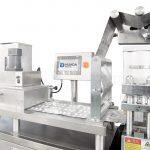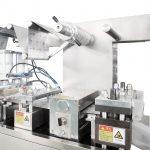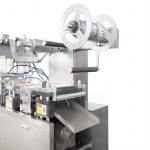 Automatic Blister Packer BliCN-250
The product is specially designed for hospital dosage room, laboratory institute, health care product, middle-small pharmacy factory, and featured by compact machine body, easy operation, multi-function, stroke adjustable, long durability etc, it is suitable for the Alu-PVC package of medicine, food, electric parts etc. Aided forming Pre‐cutting Inspection and rejecting control systems. Print mark registration Automatic feeder
Best option for small batches, pharmaceutical R&D and pilot plants.
It allows forming thermoplastic and cold forming materials (Alu-Alu).
It stands out for its simple operation, high reliability and compact design. Its main structure is made of stainless steel.
Automation by PLC and operation through touch screen control panel.
It has pneumatic drives, which lend it high robustness and low maintenance.
It is suggested for R&D departments, considering that its easy operation and maintenance makes it user-friendly to personnel that are not familiar with the use of blister machines.
Model
BliCN-88
BliCN-140
BliCN-250
Cutting Frequency
10-40 times/min
10-50 times/min
10-50 times/min
Capacity
1980strip/h
7200strip/h
9600strip/h
Max shaping areas and depth
130x90x16mm
140x120x28mm
270x150x28mm
Air Pressure
0.4-0.6Mpa
0.4-0.6Mpa
0.4-0.6Mpa
Power Supply
380V/220V 50Hz
380V/220V 50Hz
380V/220V 50Hz
Main motor power
0.75kw
1.1kw
1.5kw
PVC hard pieces
0.25-0.5*130mm
0.15-0.5*140mm
0.15-0.5*250mm
PTP Aluminum Foil
0.02-0.035*130mm
0.02-0.035*140mm
0.02-0.035*250mm
Dialysis Paper
50-100g*130mm
50-100g*140mm
50-100g*250mm
Mould Cooling
tap water or back water
tap water or back water
tap water or back water
Machine dimensions

2070

×

650

×

1060 mm

2700×640×1450mm

3360X610X1670mm
Net weight
560kg
960Kg
1500kg
HUADA

Pharma

Offers

Backed by our 25 years of experience in pharmaceutical engineering solutions, we design, manufacture and supply high quality pharmaceutical process and packaging equipment to the industry worldwide.
Contact
HUADA

Pharma

Get in touch with us today to discuss your project and how we can help you fully realize its potential.