Integrated Automatic Bottling Line For Capsule / Tablets
This wide offer comprises highly flexible and high-performance tablet/capsule counting line, specifically designed to meet the demands of the pharmaceutical field.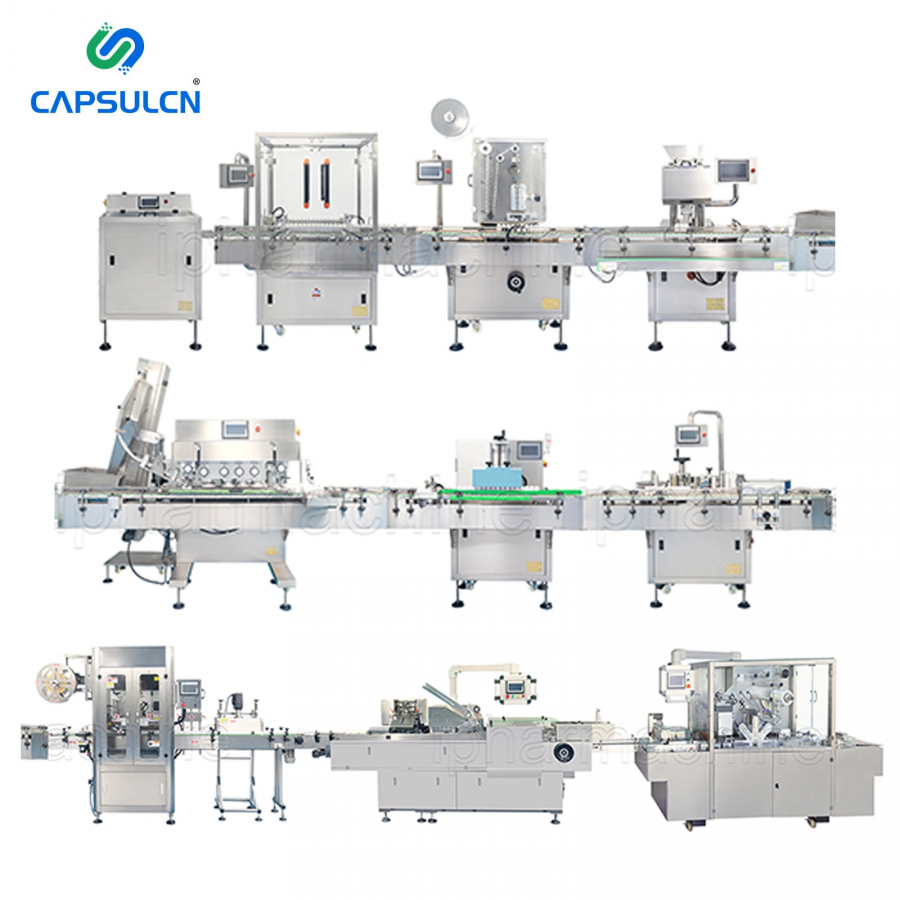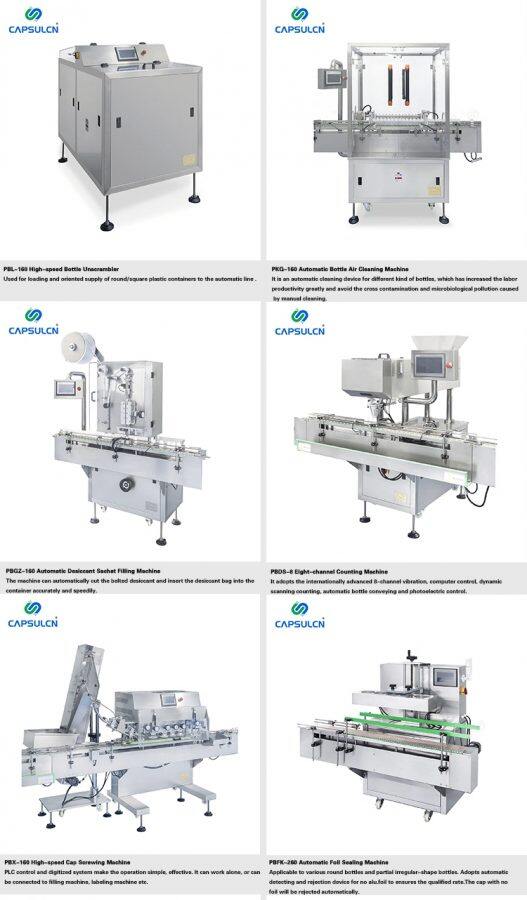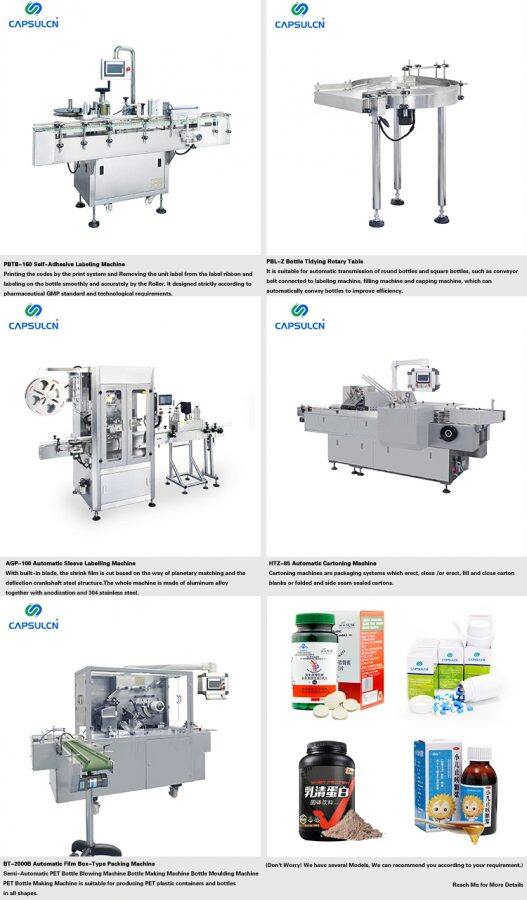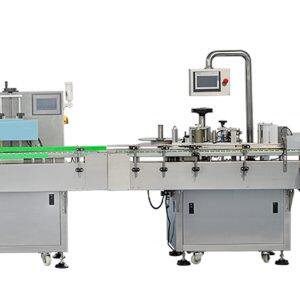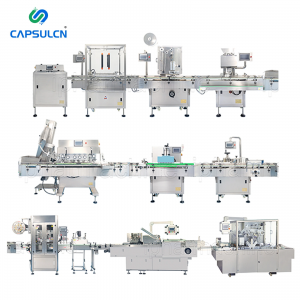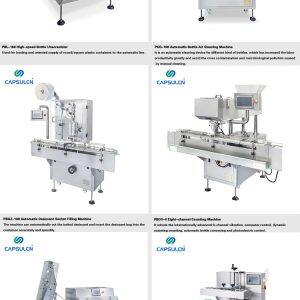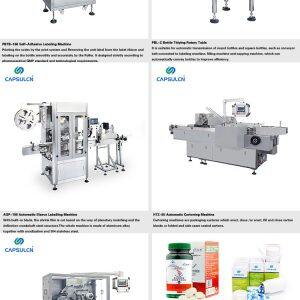 Integrated Automatic Bottling Line For Capsule / Tablets
Eleven machines cooperate perfectly
* You can choose the complete line or just several machines of it, which is based on your own needs.
* As each machine cooperates perfectly in order, it greatly improves not only the efficiency but also the quality and grade of product packaging.
Bottle Unscrambler—Bottle Cleaning—Desiccant Inserter—Counter—Capper—Induction sealer—Labeler—Cartoner—Overwrapper
Designed to comply with FDA and cGMP regulations
Different capacity ranges from 30BPM to 200BPM
Customize your own counting line


Cost saving——Eleven machines in one line take the place of eleven labours, which greatly helps reduce cost.
More practical——Compared with manual labeling, labeling bottles by the labeling machine can make the product more beautiful and firmer.
Multiple-choice——Each machine on the production line can be matched at will, and other equipment can be added at any time in the future.
High precision——The design of three-stage vibration can help avoid drug stacking, ensuring the accuracy and count error is lower than 1/10000.
Detail images
High-speed Bottle Unscrambler
Used for loading and oriented supply of round/square plastic containers to the automatic line .
Automatic Bottle Air Cleaning Machine
It is an automatic cleaning device for different kind of bottles, which has increased the labor productivity greatly and avoid the cross contamination and microbiological pollution caused by manual cleaning.
Automatic Desiccant Sachet Filling Machine
The machine can automatically cut the belted desiccant and insert the desiccant bag into the container accurately and speedily.
Eight-channel Counting Machine
It adopts the internationally advanced 8-channel vibration, computer control, dynamic scanning counting, automatic bottle conveying and photoelectric control.
High-speed Cap Screwing Machine
PLC control and digitized system make the operation simple, effective. It can work alone, or can be connected to filling machine, labeling machine etc.
Automatic Foil Sealing Machine
Applicable to various round bottles and partial irregular-shape bottles. Adopts automatic detecting and rejection device for no alu.foil to ensures the qualified rate.The cap with no foil will be rejected automatically.
Self-Adhesive Labeling Machine
Printing the codes by the print system and Removing the unit label from the label ribbon and labeling on the bottle smoothly and accurately by the Roller.
It designed strictly according to pharmaceutical GMP standard and technological requirements.
Bottle Tidying Rotary Table
It is suitable for automatic transmission of round bottles and square bottles, such as conveyor belt connected to labeling machine, filling machine and capping machine, which can automatically convey bottles to improve efficiency.
Automatic Sleeve Labelling Machine
With built-in blade, the shrink film is cut based on the way of planetary matching and the deflection crankshaft steel structure.
The whole machine is made of aluminum alloy together with anodization and 304 stainless steel.
Automatic Cartoning Machine
Cartoning machines are packaging systems which erect, close /or erect, fill and close carton blanks or folded and side seam sealed cartons.
Automatic Film Box-Type Packing Machine
Semi-Automatic PET Bottle Blowing Machine Bottle Making Machine Bottle Moulding Machine PET Bottle Making Machine is suitable for producing PET plastic containers and bottles in all shapes.
(Don't Worry! We have several Models, We can recommend you according to your requirement.)
Remarks
With special patented flap partial filling system ,the discharging of medicine is homogeneous and stable without damage.
Adopting the anti high dust photoelectric sensing technology, it also can work stably under the high dust circumstance.
Photoelectric sensor can check automatically if there's no bottle and stops automatically.
Easy to operate, disassembly, clean and change the components without any tools.
Adopting intellectualized design, all kinds of operation data can be set according to the requirement. It can store 10 groups of setting parameters for use.
Model
PBDS-8
PBDS-12
PBDS-16
PBDS-24
Production capacity
10~50 bottles per minute
20~55 bottles per minute
60-100 bottles per minute
80-150 bottles per minute
Container size
Dia.:20~100mm
Height:50-100mm
Dia.:20~100mm
Height:40~200mm
Dia.:20~100mm
Height:40~220mm
Dia.:20~100mm
Height:40~220mm
Size of capsule/tablet
Caps: #00-#4
Tablets:Ф5.5-22mm
Caps: #00-#4
Tablets:Ф5.5-22mm
Caps: #00-#4
Tablets:Ф5.5-22mm
Caps: #00-#4
Tablets:Ф5.5-22mm
Main Power
0.4kw
1.5kw
1.5kw
1.7kw
Power Supply
110V 60Hz / 220V 50Hz
110V 60Hz / 220V 50Hz
110V 60Hz / 220V 50Hz
110V 60Hz / 220V 50Hz
Weight
280kg
300kg
360kg
580kg
Overall Dimensions
1600x1500x1600mm
1600x1500x1600mm
2600x1600x1600mm
4200x1800x1600mm
Integrated Automatic Bottling Line For Capsule / Tablets
HUADA

Pharma

Offers

Backed by our 25 years of experience in pharmaceutical engineering solutions, we design, manufacture and supply high quality pharmaceutical process and packaging equipment to the industry worldwide.
Contact
HUADA

Pharma

Get in touch with us today to discuss your project and how we can help you fully realize its potential.