Vertical Packing Machine
Vertical bagging systems essentially refer to a specific kind of vertical packaging machine also known as a vertical form fill seal machine. This particular piece of bagging machinery and equipment is a type of automatic packaging unit that is commonly used in the food packaging industry.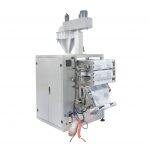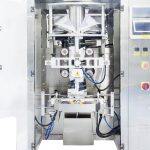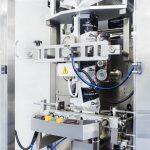 Vertical Packing Machine BVL-520
Vertical packaging machine, a variety of models economical vertical packaging machine frame is adopted 304 stainless steel material, equipped with the door security protection function, apply to the bag type has a pillow bags, Angle belt, printing bag, triangle bag bag type, suitable for all kinds of packaging materials, such as all kinds of leisure food, frozen food, coffee beans, oats, sugar, salt, rice, small hardware accessories, etc., affordable, cost-effective.
The structure is compact, electrical components, pneumatic components used in the factory of products, to ensure long-term stable working machine
The PLC program control, full Chinese / English touch screen operating system, clearly show the working state and operating instructions
Adopts high precision servo film transporting system, transport membrane smooth, combined with photoelectric automatic tracking location system, high positioning precision.
The intelligent digital temperature control system, temperature control and stability, sealing device with tooth, ensure firm sealing.
Model
BVL-520
Packing film
OPP/CPP、CPP/PE ,etc composite materials can be hot sealing, require to use in roll. external diameter≤400 mm,inner shaft diameter 75mm;The surface of packing film must smoothly, Not have wavy on the edges, within 10mm of edge can not print words and figure, the mark and packaging film base color contrast to sharp.
Making bag size
(W) 90-250mm;
(L) 80-360mm,the length can up to 450mm after pushing the belt second time.
Packing speed
5-70bags/min
Thickness of Packing film
0.05-0.10mm
Powder
3.2 KW
Air consumption
0.7Mpa 300L/min
Dimension
W118*L150*H153 (cm)
Weight
650kg
HUADA

Pharma

Offers

Backed by our 25 years of experience in pharmaceutical engineering solutions, we design, manufacture and supply high quality pharmaceutical process and packaging equipment to the industry worldwide.
Contact
HUADA

Pharma

Get in touch with us today to discuss your project and how we can help you fully realize its potential.